This week we are launching the beginning of a new story. #TradYES is the collective banner under which our talented traditional artists can join together and become part of the growing National Collective family. Our artists have a vital role to play in a national campaign for Scottish independence. We believe that the traditional arts have radical potential, both culturally and politically. Community, mutual co-operation and conviviality are embedded in what we do: music and song have the power to bring people together.
Engaging with the traditional arts is inherently about rediscovering Scottish culture. It is about narrating the collective story, where language, music and song are intertwined. This story has deep roots in the past, but in order for the story to continue to be told, it must grow afresh every season. Far from belonging to an ancient parochial past, our traditional arts are the symbolic medium of a particularly powerful form of cultural ecology: an agent of collective self-awareness and cultural renewal. Through the process of tradition – the very act of telling itself – we create a continually evolving sense of self, of community and identity.
In the traditional sphere, the 'local' is central: not everything must be articulated at the level of the 'national.' Our trad arts embody the ideas and values that are unique to us in this 'Scottish' place, while recognising and welcoming those we hold in common with other cultures and other places. Traditional songs in particular are connected to every aspect of human experience: love, loss, death, grief, pain, struggle, solidarity. The best songs illuminate the universal through the particular, the political through the personal, the present through the past. Feeling a sense of belonging or connectedness, being exposed to cultures outside of our life experience and gaining new insights on human relations and social issues are vital resources in the quest for human well-being.
We believe that the trad arts scene reflects the wider ethos of National Collective: it is inclusive, progressive and outward-looking. Showcasing and encouraging the diversity and creativity of Scotland's rich musical traditions makes a positive and crucial statement, helping build the confidence – in ourselves and in each other – to imagine possible futures and vote Yes in 2014.
There are two strands to the #TradYES project. The first strand is grass-roots: on the ground, in communities across the country. The second will consist of high profile gigs and concerts to capture the eyes and ears of the world's media. Through music, we can reach those who have no interest in party politics with a message that speaks directly to them.
In the spirit of inclusivity, our mission is to:
Call on our traditional artists to come together to share their visions of Scotland's future
Promote the diversity and creativity of the rich musical traditions of Scotland through events, gigs, sessions, festivals and through the creative use of media and venue spaces
Create a space for conversation about the role of culture (the traditional arts in particular) in an independent Scotland
Create a space for traditional artists themselves to explore what independence might mean for them
We are in no way staking the claim that those in the traditional arts world are united in their support for Yes. While we acknowledge that there are those who do not share our view, there are many traditional artists who have already begun to express their views in favour of a Yes vote.
We are not co-opting or appropriating any national networks or organisations to further our political cause. Our ambassadors are speaking out as individuals.
We really need your help to make our campaign successful.
If you are interested in joining the #TradYES project as an ambassador, please email tradyes@nationalcollective.com and we will send you details of how to get involved. We will call on you to articulate you reasons for supporting Yes and invite you to share your vision of Scotland's future – from the stage, in video form, in written form, in song form, in whatever creative medium you prefer.
The #TradYES team will be touring the country in the coming weeks with cameras in hand, to film personal testimonies and build visual content. If you are able, please send us images (high res/low res, with permissions) of yourself/band (portrait/live shot) to add to our #TradYES image bank. This will allow us to make our plea video for fundraising.
For those of you who are the world's thinkers and writers, National Collective welcomes blogs, articles and thoughtful pieces that explore the role of the traditional arts in the changing Scotland of today, which we will consider for publishing under the #TradYES tag.
If you are a member of a local community or interest group and are keen to put on local events, concerts, sessions or community ceilidhs with the #TradYES banner, please get in touch via email. Follow us on twitter @TradYES2014 and 'like' our TradYES 2014 page on Facebook, where we will keep you up-to-date with our progress and post details of events happening across the country in the near future.
Mairi McFadyen
National Collective #TradYes
---
Supporters
Adam Sutherland, Scottish Fiddler and Composer
For the past three decades traditional musicians across Scotland have been battling to have our unique musical heritage taken seriously not just by those who live here, but also by the rest of the world. It seems to me that our self-confidence as a nation is directly affected by how we view our own culture and heritage. We have been waking up to a new respect for our own traditional music and this has been aiding our overall sense of self-worth. It now looks like we're ready to take the next big step.
Mary Ann Kennedy, Musician, Singer and Composer
Bha luchd-ciùil agus seinneadairean dualchas na h-Alba riamh a' toirt beachd air an t-saoghal mun cuairt oirnn – cò nas fheàrr ann an Alba an lath'n diugh na a' choimhearsnachd seo airson ar sluagh a bhrosnachadh gu cnuasachadh air an t-saoghal neo-eismeileach a dh'fhaotadh a bhi romhainn – gu misneachail, fosgailte, dùbhlanach is fiosrach.

"Traditional musicians and singers have ever been commentators on the world around us – what better community in the modern Scottish landscape to encourage open, positive, fearless and above all well-informed debate on the boundless possibilities that independence offers us all?"
Jean Urquhart MSP (Highlands and Islands)
Traditional songs and traditional music gives us our identity. We call on you all; musicians, composers, song-writers, singers and poets, for your country needs you now. Old and new tunes and old and new ideas for a new nation with an old tradition."
Steve Byrne, Scottish Singer and Ethnologist
I'm not particularly interested in national identities – my own family is Scottish, Irish, English and German. For me, local is everything – local songs, local communities, local democracy. My entire musical life has been about taking decisions into my own hands, taking chances, sometimes making hard choices, putting my artistic neck on the line, and always striving to do things better, but at the end of the day, having control over my own affairs, taking responsibility for my own mistakes. On a personal level, it's been a journey to find the confidence and self-belief to sing with my own voice. I couldn't possibly continue to sing some of the songs I do – about peace, equality, social justice – and reasonably vote No."
Robbie Greig, Young Musician
In an independent Scotland, we will have the ability to stay out of unnecessary conflicts, to decide our own governing systems, take full control of our education and health services and many other advantages. Most importantly for me, our musical and cultural identity will take its place on the wider world stage. This can only be a good thing for musicians themselves, for audiences, for tourism and for our self-confidence as a nation"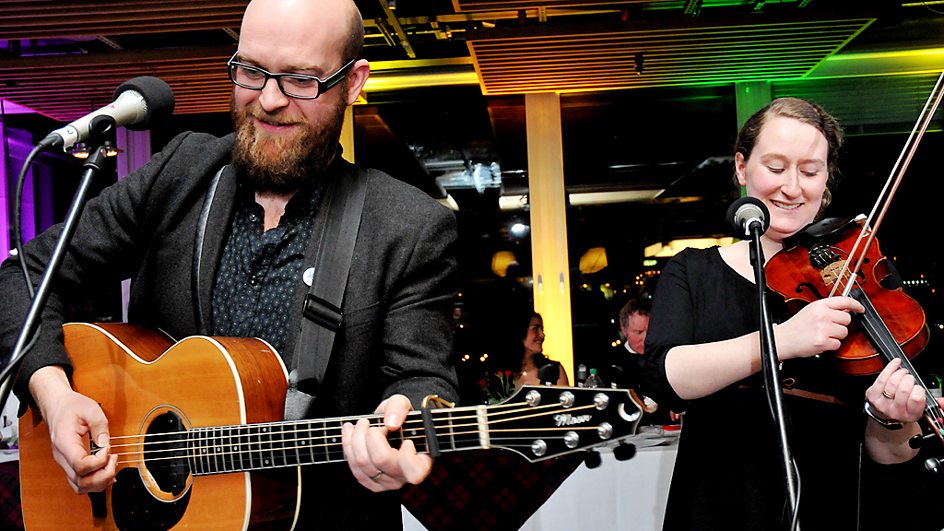 I will vote yes because I no longer believe that my vote in a UK election counts for anything. I believe in free health care for all, a free education for all and I believe in nuclear disarmament. I don't think independence will be easy or quick but I believe it is an important investment that will benefit our children and us later in life."
Findlay Napier, Singer/Songwriter
See us? Oo're the musickers,
The makars o sang, o tunes
Oo're the tellers o stories,
The dreamers o dreams—
An' the shifters and shooglers
For ivver an aye
O' the warld
Ye ken whit oo mean!
Ian McFadyen, Borders Poet (owersettin)
—
Top photograph by Peter McNally